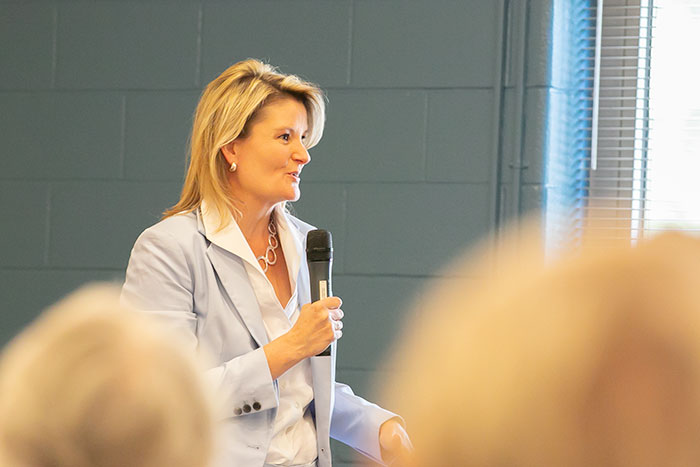 The States Project's endorsement helped me raise money for this very competitive campaign. It was nice to feel that finally, there is a network for candidates who are aligned with the people vs. the far-right special interest groups.
THE OPPORTUNITY
Because of a rightwing supermajority — more than a two-thirds majority in each Kansas state chamber — the rightwing has the power to override Governor Laura Kelly's vetoes.
We see a path to breaking this supermajority by flipping two seats in the House. This would unlock more of Governor Kelly's ability to block the rightwing's extremist agenda.
THE STAKES
In this past legislative session, Kansas' supermajority has bypassed the will of their voters to enact unpopular laws that strip Kansans of their freedoms:
Last August, Kansas voters overwhelmingly defeated a constitutional amendment that would have stripped away abortion access. Despite this clear message from their own voters, the rightwing-controlled legislature advanced a series of extreme anti-abortion laws through both chambers, overriding Governor Kelly's vetoes to pass these policies into law.
Because not every rightwing lawmaker voted to override her veto, Governor Kelly was able to successfully block a bill that would end the state's three-day grace period for counting mail-in ballots. This policy would disproportionately impact rural and military voters whose ability to have their legitimate ballots counted would depend on an increasingly unreliable mail system in Kansas. We can't depend on rightwing lawmakers to help prevent overrides on Governor Kelly's vetos. Blocking a supermajority is the safest way to prevent similar rightwing anti-voter priorities from being pushed through the legislature and enacted in future sessions.
THE LANDSCAPE
In 2020, the last time The States Project invested in Kansas, fewer than 1,000 votes decided the result of every single House district where we invested in shifting the balance of power. 
In 2024, the entire chamber is up for re-election. To end the rightwing supermajority, we will need to protect every vulnerable Democratic-held district and flip two additional seats, but we believe achieving this goal is within reach.
JOIN US
to help lay the groundwork for change in states like Kansas now!