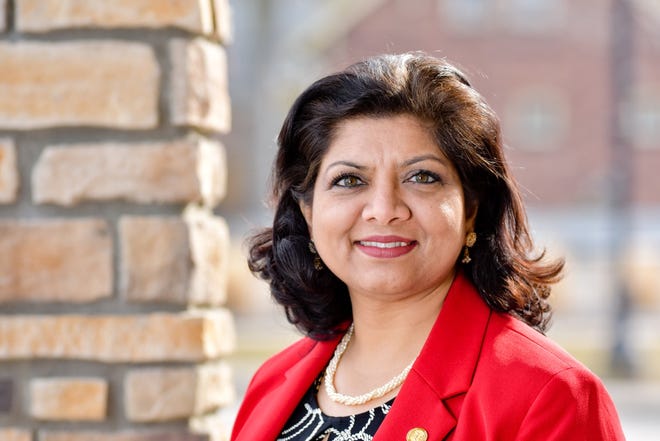 ​​I'm an engineer, I'm a mother, I'm an immigrant. When I first ran for office I didn't know anything about politics. To have The States Project invest in me, believe in me early, made such a difference. It helped lift up my voice.
The Opportunity
After working in Michigan for the past two cycles, new maps have created clearer paths to ending unchecked rightwing control. Rightwing majorities are held by just two seats in the Michigan House and three seats in the Senate. Shifting power in just one chamber by winning those three seats in the Senate or two in the House, would protect 15 electoral votes and end unchecked rightwing control of the legislature.
The Stakes
Following the blueprint of other swing states that went for President Biden, Michigan's legislative majorities advanced dozens of anti-voter bills in the 2021 session, and more are expected in 2022. So far, Governor Whitmer vetoed anti-voter bills that came to her desk including:
Banning the use of drop boxes on election day, giving constituents less time to vote.
Criminalizing election officials for public communications about voting by mail or locations of ballot drop boxes.
Enabling state lawmakers to withhold federal election funds, even if the state is unable to fully fund the election.
When Roe v. Wade fell this summer, Michigan had a 1931 law that on the books that bans all abortion – with no exceptions for rape or incest. The state's radical majority legislature is attempting to make this 100-year law current state policy. Governor Whitmer has filed a case to determine whether abortion is protected in Michigan's constitution and has asked to block the law from being currently enforced. So far, two separate courts have given conflicting responses about enforcing this law.
The best way to protect against an unpopular abortion law in the state is to elect state legislative majorities who will protect access to reproductive healthcare in the state.
The Landscape
In 2020, just over 2,000 votes flipping across 3 districts would have shifted the balance of power to a new majority in the Michigan House.
President Biden won Michigan by flipping many traditionally Republican areas that are also trending Democratic in state legislative elections.
In both the Michigan House and Senate, new state legislative district lines have created a much clearer path to the majority than in 2020.
In May, TSP endorsee Carol Glanville, flipped HD 74 in a Michigan House Special Election; now, ending rightwing control of the Michigan House is just two seats away.
The States Project has built the relationships, infrastructure, and campaign experience in the state to help flip districts and build governing power. Thanks to our Giving Circles, we hit the ground early for the best possible chance of success.
Join Us
to defend democracy in states like Michigan now!